Extension of your IT Department
The dynamics of competition in the global marketplace and sweeping changes in IT, are causing organizations to rethink how to utilize IT staff and resources more strategically. Co-Managed Services allow an organization to think and operate more strategically by optimizing the effort to support network and system infrastructure to the precise needs of an organization.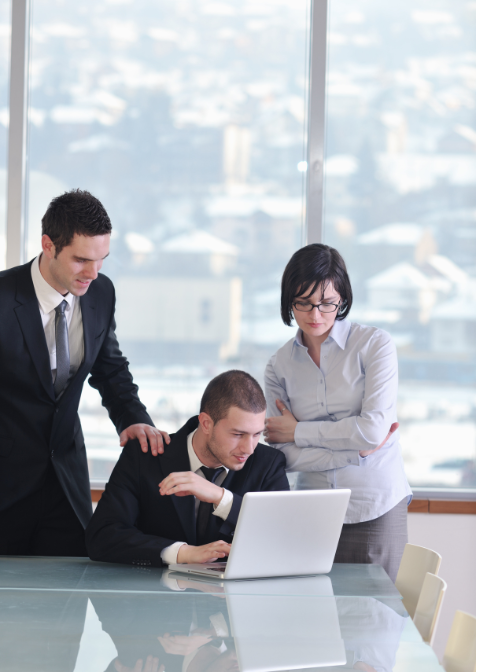 Encompass Co-Managed Services intended to augment your existing staff and assume the IT responsibilities that your organization may not have the time or expertise to perform. Encompass Co-Managed solution alleviates stress, dramatically reduces downtime, and will allow you to operate more efficiently and strategically.
In almost all cases, Encompass Co-Managed Services have a compelling return on investment (ROI). Co-Managed Services save organizations money by maintaining lower staff levels, strengthening IT security, improving operational efficiencies and avoiding risks with respect to errors in technology selection and direction.
Unlock the potential of your business with our Co-Managed IT Department Services. Experience a range of benefits that propel your success:
Enhanced Expertise: Access a team of skilled IT professionals with diverse expertise, providing comprehensive support and guidance tailored to your business needs.
Scalable Solutions: Seamlessly scale your IT capabilities as your business grows, ensuring optimal performance and efficiency without the burden of managing it all in-house.
Cost Savings: Achieve cost efficiencies by leveraging our shared resources, eliminating the need for extensive IT infrastructure investments and reducing overhead expenses.
Proactive Support: Stay ahead of IT challenges with proactive monitoring, regular maintenance, and quick issue resolution, minimizing downtime and maximizing productivity.
Focus on Core Competencies: Free up valuable internal resources and allow your team to concentrate on core business objectives, while we handle your IT management and support.
Embrace the advantages of Co-Managed IT Department Services and propel your business towards long-term success.
Encompass Co-Managed IT Services

Increased productivity

Better culture and employee morale

Functionality that helps your business

Reduced overall risk

Enhanced security measures
Be more competitive using technology

Operate at the lowest possible cost

Better work/life balance for all

Productive employees mean better margins

Most importantly, peace of mind
A push to drive down operating costs is a common theme today. There is an emphasis in IT to do more with less, driving productivity with fewer employees. This often leads to under staffing or a lack of specific resources to accomplish given tasks. A direct result can be missed project deadlines, low morale, and/or a decline in overall quality of customer service from your IT department.
People, Process and Technology

People
Gain access to expertise and scale, while moving to a more "customer-centric" approach supporting your end-users. After all, how many internal IT departments enjoy supporting their end-users? A virtual IT department also provides advanced network and security expertise, on demand.

Process
Why re-invent the wheel, when you can leverage industry best practices and world class processes from accredited professionals for quality service, efficiency, information security and regulatory compliance.

Technology
As time passes by, technology advancement and innovations are key to technology products. IT managers usually find experience and exposure to technology planning, testing, deployment to much more efficient with co-managed teams rather than investing time and efforts to finding out within their departments. IT security management is dynamic service delivery area changing very frequently, leveraging Co-manage teams with process approach will deliver much higher return on your investment.
Clients Reviews
When I contact the help desk I usually get a reply very quickly

Fast and quick resolutions

When I contact the help desk I usually get a reply very quickly
I asked to have an email address setup. It was completed by the next day and an email sent out to notify me the work had been completed.

Rick Wilson
at Flo Energy
Support staff - amazing, friendly, and quick to respond.
Always been able to help resolve my tech issues.